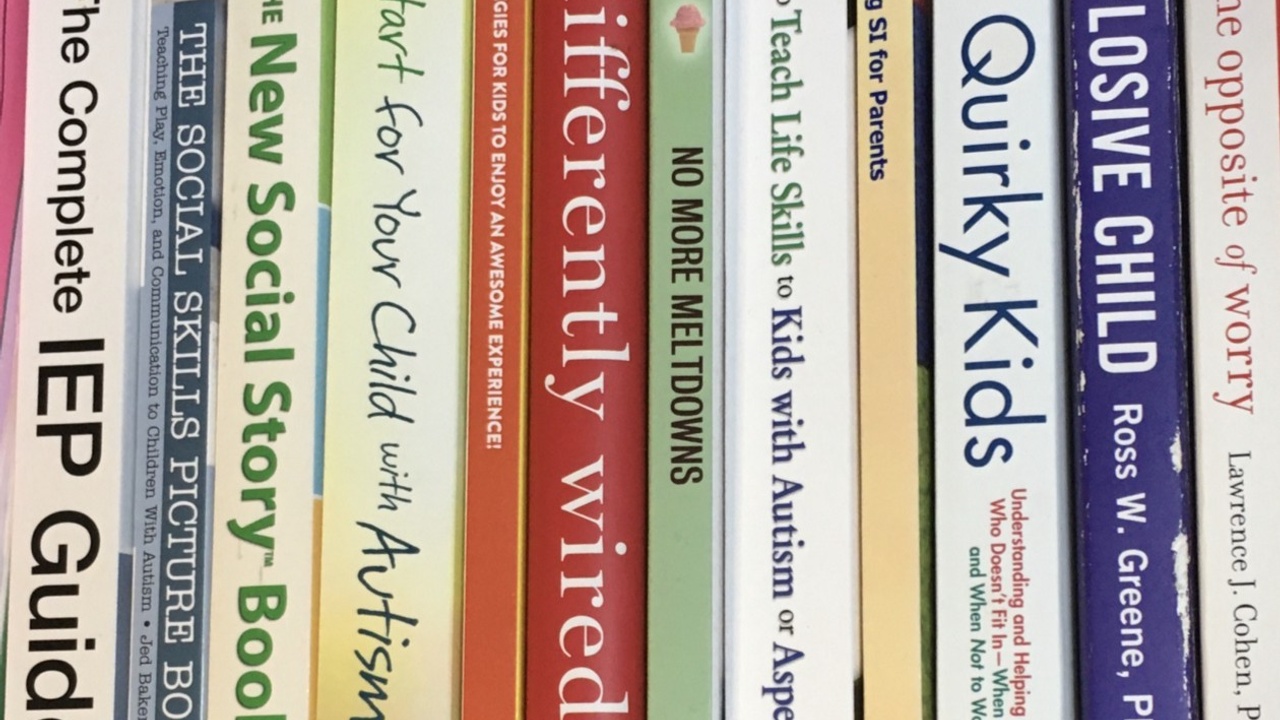 Intense neurodivergent kids don't come with a manual, but my family found harmony and joy with the help of these inclusive parenting books.
I won't title this 'The 15 Best Books…" Each of us is unique, and our kids are different. We are not going to have the same needs. We won't resonate with the same writing styles. I encourage you to read reviews before deciding which books are right for you. I encourage you to listen to the sample before buying an audiobook.
These books have been companions along my journey of discovery, from before my son's ASD diagnosis to the cusp of middle school.
My learning style responds well to reading, and I was desperate for support and understanding when my son was little. If that's not you, don't feel pressure. There are at least as many great books that I haven't read yet, sitting on my shelf.
These are some of the voices which have influenced my parenting towards an inclusive, mindful and collaborative approach. I was also informed by many books not related to parenting; many 'typical' parenting books; and many workshops, interviews and trainings.
Mostly, my son has shaped my parenting. He shows me how he needs me to be with him. My job is to listen. If I care for myself, I'm a better listener. That's why I am passionate about sharing the strategies I've used to stay calm and connected with my kid when he's having a hard time. If you're losing your cool every time your child does, download my free Mindful Meltdown Cheat Sheet now, and read the books below at your own pace.
I have placed these fifteen parenting books in a rough order by importance to me.
I left the best for last. Spoiler: Uniquely Human is my favorite. I'd be happy to update the list as I go. I am only including books I've actually completed, so there are certainly going to be fantastic books that have been left out. I'd LOVE to see your suggestions in the comments.
If you're interested in a similar list of books for your atypical kids to read, let me know in the comments below!
Quirky Kids: Understanding and Helping Your Child Who Doesn't Fit In- When to Worry and When Not to Worry by Perri Klass. This is the book which described my son so clearly that in one paragraph I realized he had "Asperger's Syndrome." The book was suggested by a neurologist, who was otherwise unhelpful. 'Quirky Kids' is full of resources and stories reminding parents to never reduce their child to a diagnosis, and see that they "enlarge and enhance life for us all."


Raising Your Spirited Child: A Guide for Parents Whose Child Is More Intense, Sensitive, Perceptive, Persistent, and Energetic by Mary Sheedy Kurcinka. I latched onto this book when we were struggling with my son's "spirited" behavior pre-diagnosis. It offers a really helpful mindset on how to relate to someone with a temperament different from you own.


An Early Start for Your Child with Autism: Using Everyday Activities to Help Kids Connect, Communicate, and Learn by Sally J. Rogers, Geraldine Dawson, and Laurie A. Vismara. If your child is under 3, this is the resource for you. It includes many play-based activities to encourage joint attention for very young or non-speaking children. I wish we had this book, and the diagnosis, sooner.


Overcoming Autism: Finding the Answers, Strategies, and Hope That Can Transform a Child's Life by Lynn Kern Koegel Ph.D., and Claire LaZebnik. Cringing at the title of this book, I'm still going to include it. No, I don't want to "overcome" an intrinsic part of my son. What I do want is to help him overcome his obstacles. The concepts in this book helped me to understand the pivotal skills which would help my son flourish in this neurotypical world, without changing his essence. The perspective shared by Claire, a parent, her child now grown up and thriving, provided a counterpoint of hope when I was anxious about my son's future. If you can overlook the title, it's a helpful guide.


The Complete IEP Guide: How to Advocate for Your Special Ed Child by Lawrence M. Siegel, an attorney. Don't IEP alone! Know your child's rights. Get the latest version to reflect the current laws.
Would you like my 5 Steps to Calm & Successful IEP Meetings? Read the BLOG, or download the cheat sheet HERE.


Autism & Travel: Strategies For Kids to Enjoy An Awesome Experience! by Jesemine Jones. This is so practical. Don't leave home without it! Great advice about details of travel with atypical kids that you'd never consider unless you had been through it yourself. I was afraid to travel after my son ran away in the airport a few times. Jesemine has all the tips and tricks. Soon our family was flying confidently and landing smoothly.


The New Social Story Book by Carol Gray. A guide to writing your own social stories, as well as plenty of inspiration. I used her stories as a springboard for what we needed.


Sensory Integration Strategies for Parents: SI at Home and School by Jeanne Sangirardi Ganz. An OT gives an overview of SI and lists activities to try at home. She offers invaluable tips for overwhelming situations like parties and haircuts.


Differently Wired: Raising an Exceptional Child in a Conventional World by Deborah Reber (host of the transformative TILT Parenting Podcast. I wish this book had come out when my son was younger. I love how Debbie's vision goes beyond our own families. She shares her very personal story, unconventional solutions, and inclusive philosophy. She chooses to homeschool her son. I don't. We each make the best decisions we can for our own family. I'm fully aligned her conviction that we need to change the world to make it more accepting of differences!


The Opposite of Worry: The Playful Parenting Approach to Childhood Anxieties and Fears by Lawrence J. Cohen. This is where I got the concept of the 'second chicken' which reminds me how essential it is to regulate myself if I want my son to be regulated. This book got me to really prioritize the relationship with my son and get up off my a** to play with him. It has infinitely improved our connection. So much of behavior is anxiety. Understanding that changes everything.


How to Teach Life Skills to Kids with Autism or Asperger's by Jennifer McIlwee Myers. An Autistic self-advocate with practical insights into how to take on this essential aspect of parenting. She reminds other Aspies that manners and small talk "are unnatural things for everyone to do." It has helped me do something about my fears regarding my son becoming independent.

Self-Reg: How to Help Your Child (and You) Break the Stress Cycle and Successfully Engage with Life by Stuart Shanker. This book speaks my language as far as the importance of parents self-regulating so they can co-regulate with their children. He offers parents "concrete ways to develop their self-regulation skills and teach their children to do the same and engage successfully with life for optimal learning, social, and emotional growth."

The Explosive Child: A New Approach For Understanding And Parenting Easily Frustrated, Chronically Inflexible Children by Ross Greene. If you have a kid who doesn't respond to rewards or punishments, his system of Collaborative and Proactive Solutions is for you. My defiant kid hasn't responded well to the structure, yet, but we use a loose variation often. It helps him feel heard and willing to collaborate. I've heard Greene's new book, Raising Human Beings, is even better. I haven't been able to get through it yet.


Brain Body Parenting: How to Stop Managing Behavior and Start Raising Joyful, Resilient Kids by Mona Delahooke. This is a brand new book as of this post, and it's 1000% my jam. Her approach to parenting is "based on her clinical experience as well as the most recent research in neuroscience and child psychology. Instead of a 'top-down' approach to behavior that focuses on the thinking brain, she calls for a 'bottom-up' approach that considers the essential role of the entire nervous system..." Delahooke breaks down Polyvagal Theory into a useful, digestible framework so parents can read body-based cues and customize their approach to their unique kids. She stresses the essential ingredient in parenting: self-care. This book is a game changing must-read.


Uniquely Human: A Different Way of Seeing Autism by Barry M. Prizant is my all time hands down favorite. His understanding, hopeful and inclusive approach has been a major influence on my parenting. Prizant has all the credibility and experience, yet writes simply and with great empathy. I can't find a copy of this book in my home right now, because I tend to give them away. I literally want everyone to read it! He has a new podcast out called Uniquely Human: the Podcast!
I've bumped the two books by Jed Baker to make room for some new favorites. Baker appreciates, understands and respects our kids. I attended a great talk he gave when I needed it most. You can find his videos on YouTube. I can no longer endorse 'The Social Skills Picture Book: Teaching Play, Emotion, and Communication to Children With Autism' because it is based on binary, ableist rules. I know that everything becomes dated eventually, but as my son would say, "cringe." No More Meltdowns: Positive Strategies for Managing and Preventing Out-Of-Control Behavior is a small book with chapter summaries, quick reference guides, and a deceptive title. If you'd like my Mindful Meltdown Cheat Sheet to accompany the inevitable meltdowns your child will have anyway, download it HERE.
If you have suggestions for my list, I'd love to see them in the comments below! Please also let me know how the books you read about parenting atypical kids have affected your family. Let's support each other in our quest for understanding and supporting our neurodivergent kids, and ourselves.
A version of this article was originally published in Family Matters.
---
Kate Lynch (she/her):
Parent of an amazing atypical kid, inclusive yoga teacher, mindful parent mentor and author.
Kate began teaching yoga and cultivating community in 2002. She'
s the creator of the
podcast
and upcoming book, Mindfully Parenting Atypical Kids. She writes for
Mutha Magazine
,
Autism Advocate
Parenting Magazine
,
Autism Parenting Magazine
,
Accessible Yoga Blog
,
Yoga for Times of Change, The Good Men Project
, and
The Mighty.
She has been recognized as a top writer in
Mindfulness
and
Parenting
on
Medium
, where her work has been published in
Better Humans
,
Family Matters
and
Age of Empathy
among others, and has over 11,000 followers!
Read the
Inclusive Yoga & Mindful Parenting Blog
where Kate writes vulnerably at the intersection of her practice and life, sharing actionable tools that help you stay present. Kate's new Substack newsletter,
Mindful Parenting in an Ableist World
is a
sandbox of her raw, unpolished thoughts
about navigating parenting her neurodivergent kid in 2022.
Stop Walking On Eggshells!
Gentle yoga to release your stress and shift your mindset about struggle.
If you get your buttons pushed often by other people's issues, you may be hypervigilant. You might feel it in your body as clenching, tension, or chronic pain.
You'll become more grounded in awareness of your body.
Stop Walking On Eggshells